Side Special Move: Flying Slam
This is Bowser's megamonster move: the Flying Slam!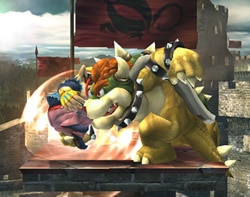 First, he grabs...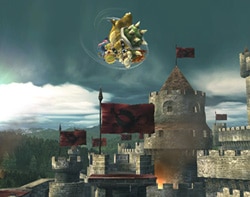 ...then he jumps...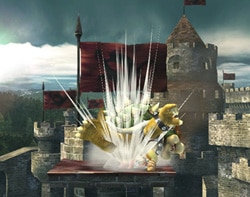 SLLAAAMMO!
You can even grab someone in mid-air, making this move a real mean one.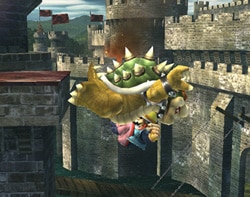 He's diving off the edge with his opponent! That's not nice!
But please don't worry. The opponent will be able to affect side-to-side movement just like Bowser.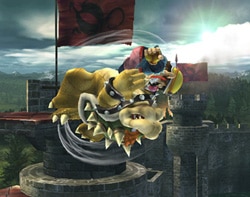 The opponent can fight back.
The effectiveness of this resistance depends on the damage gauge. The less damage the opponent has, the stronger he or she will be able to resist.
Likewise, Bowser will find it harder to control his enemy if he has taken a lot of damage.
Down Special Move: Bowser Bomb
Bowser's down special move, the Bowser Bomb, is really powerful, but also leaves him really open.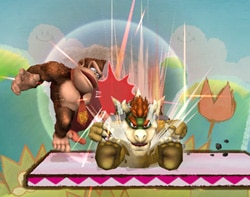 Whoooomp!
When using this move while on the ground, you can attack when the enemy is right in front of you.
If the initial attack connects...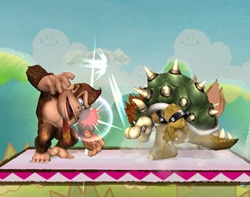 ...you'll launch your opponent up...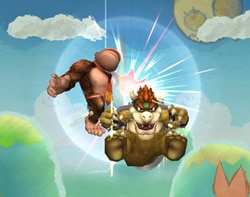 ...and you can get a combination hit as you drop!
Whichever way you do it, if your opponent dodges, they'll have you wide open. Try not to use this move at the wrong time!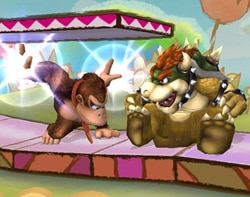 Stop! Stop! Don't attack me when I'm helpless!