He's making his entrance a little late, but here he is – the famous F-Zero pilot, Captain Falcon!
This time around, he's bringing his pride and joy, the F-Zero machine called the Blue Falcon, to the brawl. This inclusion ought to boost his macho, tough-guy reputation significantly.

Captain Falcon's Special Moves
Standard Special Move
Falcon Punch
Side Special Move
Raptor Boost
Up Special Move
Falcon Dive
Down Special Move
Falcon Kick
Final Smash
Blue Falcon
Tips
Captain Falcon is all about legs. He used to be the fastest runner in the entire game... Way back when, that is.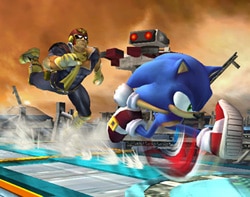 But there's no outrunning this guy...
Standard Special Move: Falcon Punch
This is the Falcon Punch, a move virtually synonymous with Captain Falcon!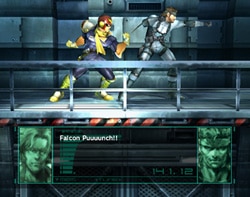 It looks like Snake's a big fan as well.
This move really works wonders for you in chaotic group matches. Try throwing one out in the fray and your wild punch may just connect with a few opponents.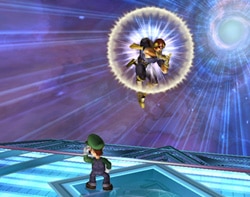 If you tilt the Control Stick in the opposite direction that Captain Falcon's facing while he's winding up...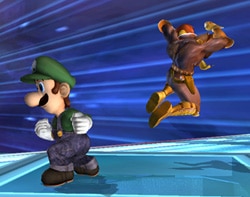 He pulls a 180...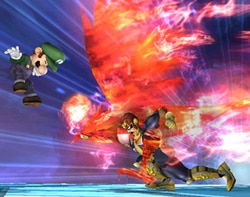 FALCON PUNCH!!
And there you have it, a reverse Falcon Punch. This move packs juuust a touch more power than the standard version.
Down Special Move: Falcon Kick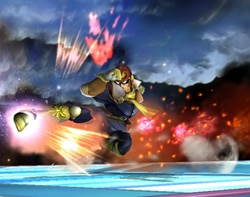 Perform this move while on solid ground to shoot forwards straight as an arrow.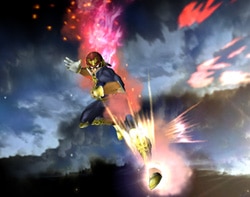 In the air, the move changes to a kick that shoots him downwards at a sharp angle.
This move works best as a surprise attack. Make sure you deploy it in a fashion that keeps your opponent from reading when it's coming.
Final Smash: Blue Falcon
For his Final Smash, Captain Falcon calls in the Blue Falcon! Connect with the Final Smash to pull opponents onto an unknown F-Zero race course.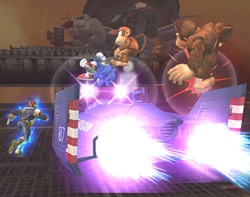 Come on!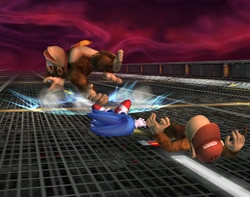 Blue Falcon!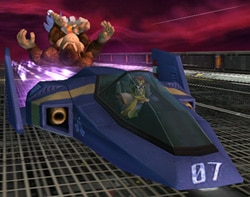 Wham! A tremendous hit!!
Falcon's the only character with a cinematic Final Smash like this.
Mm hmm. That's one wild move he's got there.