The first time you hit with PIKACHU's side smash attack, you'll hit with an attack strength of 20% – quite an impressive rating! There aren't many other standard moves that can deal that kind of damage.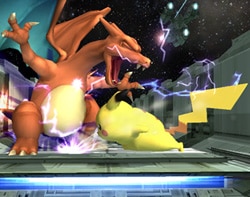 This is the kind of strike timing you want!
After the first hit, the attack strength will decrease to 17%, then 14%. Just remember it's best to hit in quick succession.
Up Special Move: Quick Attack
It's important to remember that with Quick Attack, you make two jump moves!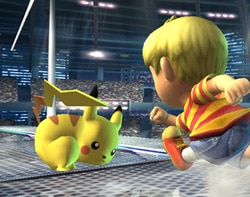 Press up and the special-move button.
When preparing, tilt the Control Stick in the direction you want to fly first. PIKACHU will launch in that direction.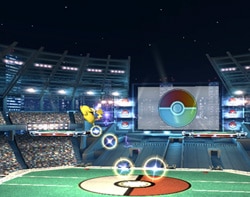 For example, here's PIKACHU flying up diagonally.
While flying, tilt your Control Stick quickly in another direction – you'll get a second jump!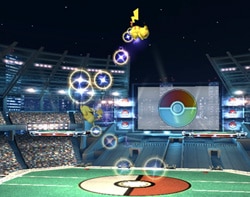 Change direction and jump again!
However, you can't do your second jump in the direction you're already headed. The angle of the second jump must be at least 38 degrees different from the previous trajectory.
Try to aim for something a little less than 45 degrees and you'll be able to travel a pretty good distance.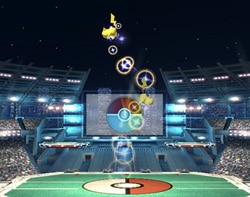 Maybe this is about the best possible distance you can jump?
Down Special Move: Thunder
Ah, electricity – the source of PIKACHU's power. Any enemy directly above will get hit with a strong, electrifying jolt!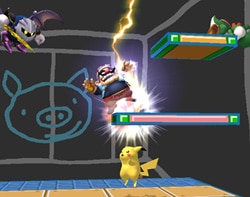 Pikaaaaa!
Even more powerful than zapping your enemies with electricity is having them touching PIKACHU as the electricity strikes. This type of attack has high launching power and a fairly good range.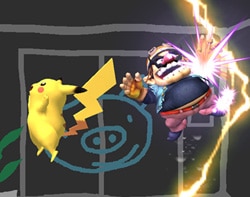 You're not as vulnerable, but you don't get the secondary attack.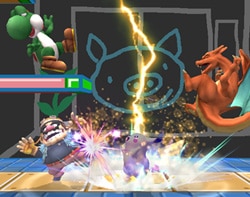 You're momentarily vulnerable, but anyone near PIKACHU's body gets launched!
Watch out, though – electrical attacks can be absorbed and reflected.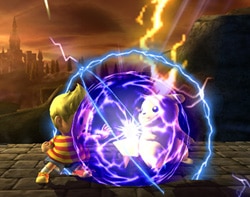 Thanks!
Try to keep your opponents guessing about when you'll use this move.