Picture five or more players huddled around a Wii.
The number of people who can play is limited by the number of controllers that can connect. When that happens, you usually have the people who win or lose rotate out so that everyone gets a turn, right?
So be nice and give everybody a chance to play!
... ...That's how I feel anyway, but just in case you need a little help being nice (and since everyone has their own controller preferences), I went ahead and rigged up a Rotation mode.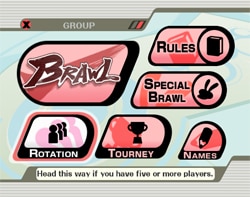 This is the top menu for Group mode!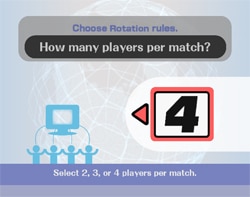 First decide the number of controllers.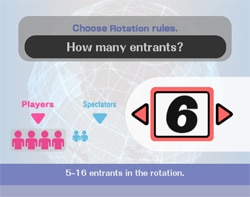 Then get a count of people in the room with you
and enter that in.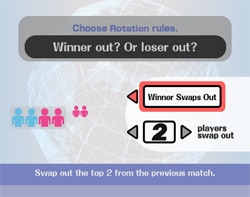 How many people will swap out?
You can set the rules to rotate out a set number of winners or losers from the brawl. Rotation doesn't have to be about coming in first place.
If your group is on pretty equal footing with each other, go for Loser Swaps Out. If you've got some green players in your midst, why not start out with Winner Swaps Out?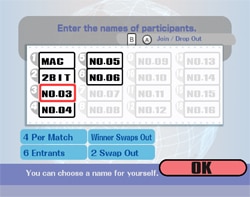 It's always useful to log your name.
But, hey, if it's too much of a bother for you, you can play fine without it. Just as long as you remember your guest number, that is.
If a new player happens to come by during a Rotation match, you can add him or her to the group if you're willing to head back to the name-entry screen.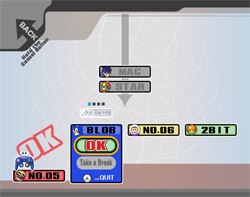 When your name comes up, press a confirmation button.
Press a confirmation button on the controller of your choice when your name pops up. That sets the controller you'll use.
And of course, your control settings will be applied when you play.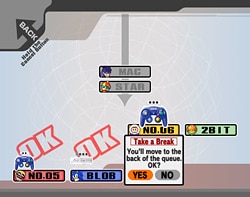 Need a bathroom break? Opt to sit out a match!
Even with numerous controllers and dozens of people lined up to play, you'll be good to go if you use this mode!
... ... Well, not quite.
Rotation is limited to 16 players. Mm hmm.