In the last game, you dropped the coins you collected into a prize-dispensing machine for a chance to win trophies. That was fine and all, but I got to thinking that there wasn't really any strategy involved.
So this time, I dropped that game. Instead, you'll be earning your trophies in THIS kind of game!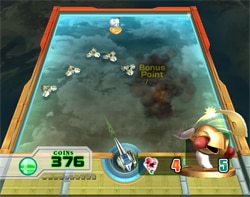 I dub this the Coin Launcher!
I'm gonna have you play every inch of this game!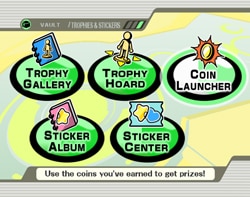 That option on the right is the entrance to the Coin Launcher.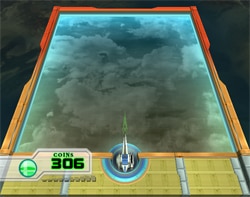 That's the launcher at the bottom.
Tilt left and right to change the angle of the launcher and press the button to roll coins out. Basically, the coins themselves are your bullets.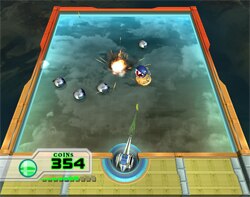 Fire, fire, fire, fire. FIRE!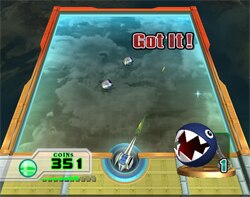 And you got it!
The trophies move, so shoot, shoot, shoot them before they get away. If you land a few shots on a trophy, it will be yours.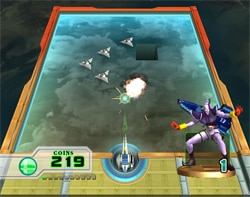 An enemy formation has appeared!
When you defeat formations of smaller enemies, you earn stickers and bonuses. When your green gauge fills up, it becomes possible to shoot coins rapid-fire for a short time.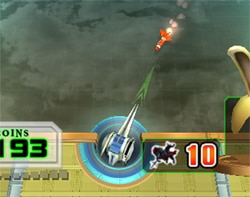 A missile appeared!
Shoot the missiles down. If a missile strikes, your coin count will decrease!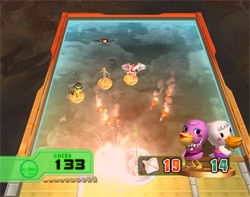 Whaaaaaaa!
Press the cancel button to quit. The trophies and stickers you got this time will be displayed.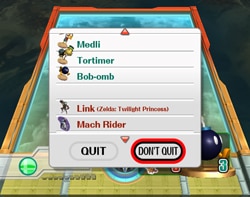 The green ones are trophies. The red ones are stickers.
The more you play the other modes, the more coins you'll earn for the Coin Launcher. You can even earn them in Spectator mode.
If you want even more coins, your best bet is to invite some friends over to play. The more people you play with, the more coins you'll earn.