When you reach the game-over screen in modes like Classic and Adventure, you'll have the opportunity to continue your game.
However, there are some things you should know about continuing...
When You Continue in Classic Mode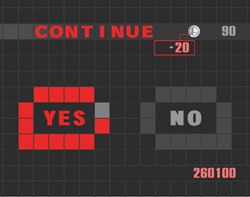 A certain hidden game mode shares this type of continue screen...
Your score gets cut in half
Your score gains a single point (to keep track of the number of times you continued)
You forfeit a number of coins


| | |
| --- | --- |
| Easy... | 10 Coins |
| Normal... | 20 Coins |
| Hard... | 30 Coins |
| Very Hard... | 50 Coins |
| Intense... | 100 Coins |
The coins I'm referring to here are exactly the same as the ones you use in Spectator mode.
For those times when you've decided you simply have to beat the game on the Intense setting, I'd recommend backing up your conviction with a healthy supply of coins...particularly when tackling stages in the latter half of Classic mode.
You also have to take into account your luck with items.
One key to conquering this mode is being persistent and making liberal use of that continue function.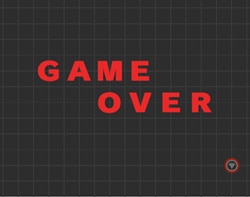 Unfortunately, you can't continue when you run out of coins.
When You Continue in Adventure Mode
In Adventure Mode: The Subspace Emissary, continuing won't cost you any coins, but that isn't to say it's free.
Will you continue, or will you call it quits for the moment?
If you choose to "Get Up" and continue the fight, the following things will happen.
You lose one half of the Stickers and Trophies you've just collected (items obtained from orange boxes and CDs are guaranteed to stay in your collection)
You resume play from the beginning of the step (the unit of area from one door to another) at which you died
The amount of coins you get for beating the stage slightly decreases
If you choose to instead go "Back to Map", you won't start the stage over from the last door, but otherwise the effects are similar – except the number of coins you collect will be greatly reduced.
So you might as well get back on the horse, beat the stage, and get it out of your system. Especially seeing as how the game can mercilessly strip several of the precious items and enemies-turned-trophies you picked up your first time through.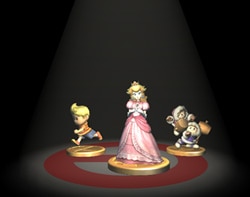 LEEEEAP to your feet and retry!
On the other hand, if you do choose to return to the map, you can save and reselect the difficulty level the next time you choose to enter the stage that defeated you, so it's not like there are no merits to be had in choosing to back out for a while.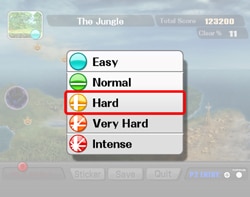 Higher difficulty settings yield more coins.