With the "My Music" feature, you can enjoy the music of our many musicians any way you like. Choose freely from our diverse selection of famous songs!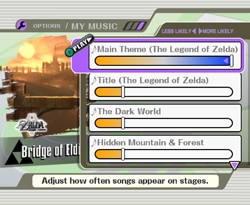 This is "My Music" in action!
The battle stages of Super Smash Bros. Brawl feature a diverse line-up of game worlds. For example, there are stages based on the Mario universe.
Basically, there is only one song that plays on each stage. But even among the myriad songs of the Mario universe, people probably have different favourites.
Plus, while there may be people who stepped into the Mario universe in the original Nintendo Entertainment System days, surely there are some who first experienced Mario on the Nintendo DS.
With that in mind, I think it's a bit of a waste to limit that whole universe to just one song.
So we've prepared many songs and will let you choose the likelihood that any given song will be played.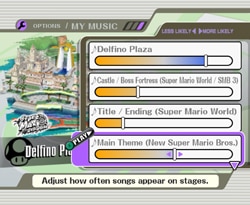 This is "My Music" for Delfino Plaza.
For songs you're particularly fond of, you can increase the likelihood those songs will appear. Then, when you brawl on that stage, the chance of your preferred songs being played increases.
Of course, if you want to, you can limit a stage to only one song, or make every song in the game equally likely to appear.
I've asked our reputable list of musicians to provide many songs for this particular game. But that's certainly not because I just wanted to cover all these songs.
I've asked them to choose the songs that match their personalities and tastes!
Here you will find the best of the best – something you can very rarely get a chance to savour.
If your motivation behind your song selections is simply because you like them, then that's just fine. Choose your settings as you like.
Just so you know, there may be songs from other games that are left as is, without any new arrangement.
Oh, and by the way, there's an item in the game called a CD.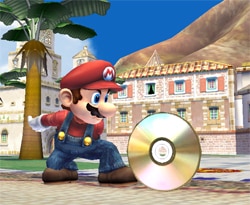 This is a CD.
Regardless of which mode you're playing, if you see one of these, be absolutely sure to grab it. If you want to know why, it's because CDs are the way you add to your music selection.