Donkey Kong has a lot of meteor smashes.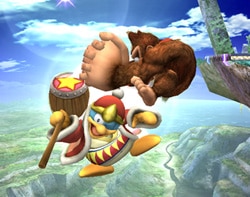 Forward midair attack!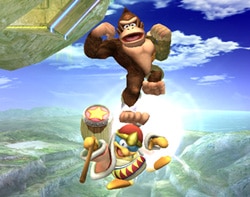 Down midair attack!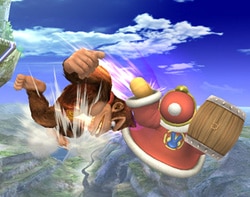 Head Butt!!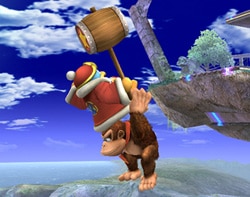 Come with me! (This isn't a meteor smash, though.)
<Standard Special Move: Giant Punch>
Donkey Kong's primary special move is the Giant Punch. If you power it up before you unload it, it's superstrong.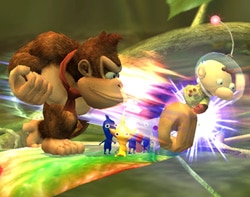 If you power it up before you swing...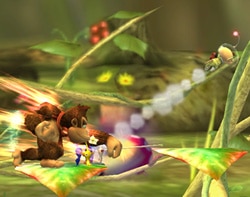 It can be a one-punch KO!
Furthermore, when you attack with a full charge, Donkey Kong won't flinch when he throws his punch.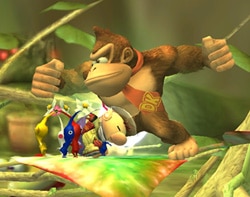 It was then I knew I would become a star...
However, you won't be able to hit opponents as easy as 1-2-3! Let me use the next special move to illustrate a golden combo for you to work on.
<Side Special Move: Head Butt>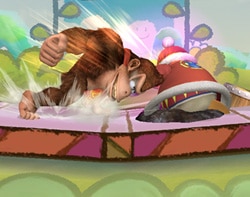 Bury your opponent!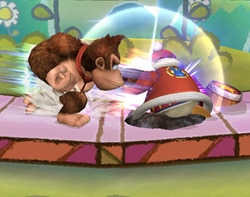 Giant Punch!
Seriously? Will it always connect? Really? Once you get them with a Head Butt, is the Giant Punch a lock?
Well, not exactly.
The amount of damage taken is proportional to the amount of time spent buried.
If they're in the air, you won't be able to bury them.
It's harder to hit with the Head Butt than it is with the Giant Punch.
For these reasons and others, it's not exactly easy to land this combo.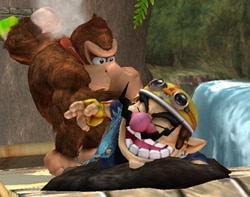 If you get buried, get out quick!
But for Donkey Kong, there's a lot of merit to charging up and then saving the charge for the right moment. Keep an eye on the situation and make your own judgments.
Of course, no matter which character you play, the rule of aiming for opponents who already have a lot of damage remains the same.
By the way, when lifting someone, your opponent's damage similarly affects how quickly they can break free, so be careful.