Jigglypuff, the Balloon Pokémon, is one of the few characters who has been in every game in the series to date.
Float, roll, and sleep your way to victory using a fighting style completely unique to Jigglypuff.

Jigglypuff's Special Moves
Standard Special Move
Rollout
Side Special Move
Pound
Up Special Move
Sing
Down Special Move
Rest
Final Smash
Puff Up
Tips
Jigglypuff has neither a long reach nor a lot of power to its attacks. On top of that, it's not a particularly fast runner and is extremely easy to KO because of how light it is.
At a glance, Jigglypuff seems like an utterly flawed character, but the truth is that Jigglypuff has a few abilities that balance things out, like its superior midair capabilities.
On top of the ability to jump five consecutive times in the air, Jigglypuff's midair acceleration and top speed are in a class by themselves, making Jigglypuff the ultimate midair brawler.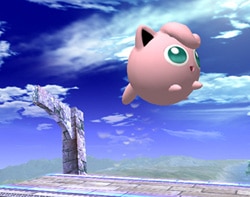 It's faster than running, so jump, jump, jump. Small jumps are best.
<Standard Special Move: Rollout>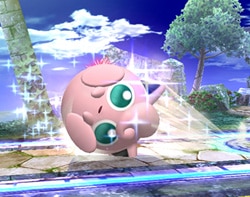 Charge up your spin in place...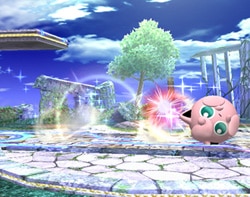 Then roll out at top speed!
It's really easy to KO yourself with this move if you don't know how to handle it, but the intense speed of Rollout makes it a move worth mastering.
If you're vigilant in guiding Jigglypuff by pressing forward and backward, you shouldn't have to worry about flying wildly off the edge of a stage.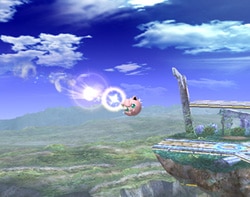 And did I mention it's a great recovery move?
<Up Special Move: Sing>
Most up special moves are recovery techniques. Jigglypuff's up special move won't help you recover, but it does have the power to put your enemy to sleep.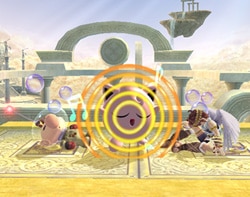 You can't put airborne enemies to sleep, so watch where you sing.
The more damage your slumbering opponent has taken, the longer they'll remain asleep. If you're lucky enough to land Sing on an opponent with relatively high damage, you've got a free pass to follow up with Rest.
<Down Special Move: Rest>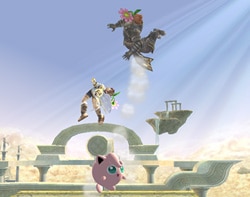 Pwaaaang!
This is Jigglypuff's other saving grace. Unleash Rest on an opponent when you're overlapping him or her and watch 'em go flying!
Not only does Rest hit hard, but connecting with the attack will sprout a flower on the opponent's head, causing damage to accumulate for a short while.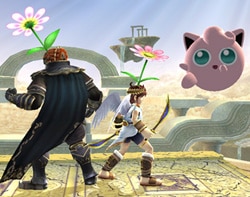 It's...true.
Ah, but compared to the last Smash Bros. game, Rest has had its power reduced, hasn't it?
<Final Smash: Puff Up>
This is Jigglypuff's saving grace number three. This move can be devastating if you fire it up in the right spot!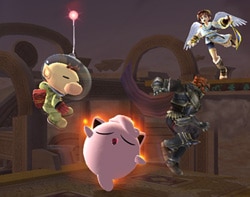 Break that Smash Ball!!
Jigglypuff puffs up!!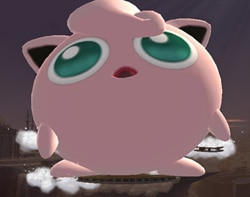 Then puffs up bigger still!!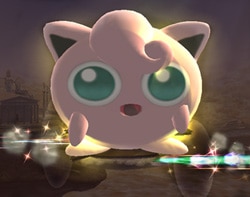 And then one massive hit!
This one's a real killer. If you're playing on a smaller stage, you can expect stunning results from Puff Up. It's also quite a stunner visually.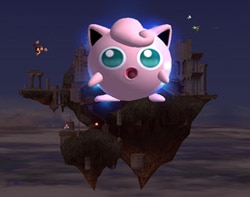 The attack does, however, lose a little of its potency on larger stages.