The Star Fox team's greatest rival is Team Star Wolf. Sitting at the head of this group is Wolf O'Donnell.
Wolf fights with his razor-sharp claws in a style that's downright feral. His high risk, high return special moves are a blast to use.

Wolf's Special Moves
Standard Special Move
Blaster
Side Special Move
Wolf Flash
Up Special Move
Fire Wolf
Down Special Move
Reflector
Final Smash
Landmaster
Tips
Among the playable characters from the Star Fox universe featured in Brawl, Wolf weighs in as the biggest and heaviest. However, because his basic stance keeps him very low to the ground, you may not feel like you're handling a large character.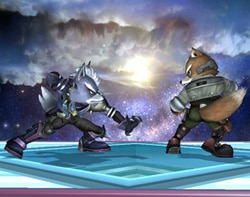 Wolf bends at the knees to keep his fighting stance low.
Wolf is one of those characters who makes up for what he lacks in speed with a little extra brute force, if you know what I mean.
<Standard Special Move: Blaster>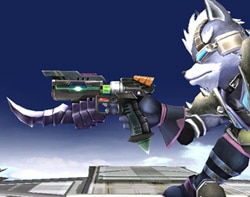 It's got some sort of clawlike protrusion on the end...
This claw can damage enemies close enough to make contact with it when Wolf fires his blaster. Wolf will then proceed to follow up the attack with a blaster shot to the stunned opponent.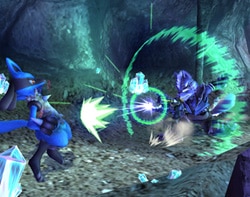 The blaster fires shots one at a time.
The farther the shot travels, the less damage it will do upon impact.
<Side Special Move: Wolf Flash>
When you use Wolf Flash, Wolf jumps upward at an angle in the blink of an eye.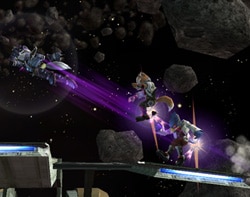 Wolf delivers a huge meteor smash at the end of his jump!
It's a truly difficult move to master, but players who can consistently connect with Wolf Flash will find themselves in command of a frighteningly powerful technique.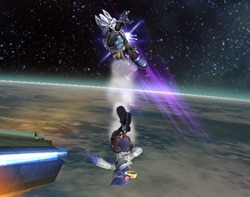 Meteor smash!!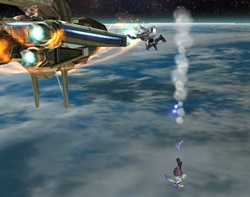 Then grab the closest edge to save yourself.
<Down Special Move: Reflector>
Wolf releases a red tinted Reflector that makes him invincible for a moment upon its activation. If you draw the enemy in close and use Reflector as if it was a counter...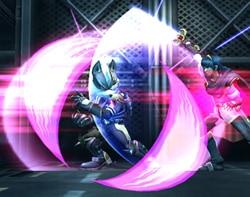 Wolf dodges the enemy's attack...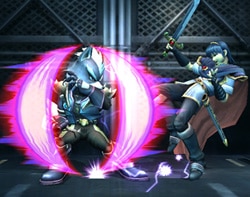 And follows up by zapping 'em with his Reflector!!
The Reflector itself doesn't hurt all that much, but it has a bit of range to it, which makes it a great technique to use on opponents who want to control the match. Give it a shot next time you want to change the flow of your fight.
<Final Smash: Landmaster>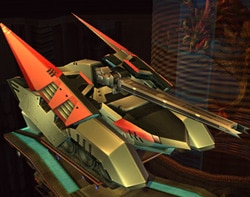 Wolf's Landmaster has bright red highlights!
Wolf's custom Landmaster was designed to mimic the color scheme found on Wolf's personal craft, the Wolfen. So, how exactly is Wolf's Landmaster different? If you want to know the details, check out the explanation attached to its trophy.
Wolf's vehicle outperforms Fox's and Falco's Landmasters in the areas of firepower and mobility. However, all these upgrades require a commensurate increase in fuel consumption, which is probably the reason Wolf's Landmaster stays on screen a shorter amount of time than the other two.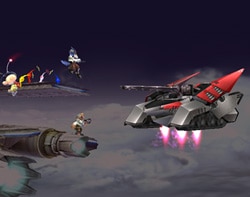 Wolf's Landmaster's boosted specs can also help you recover faster too!