Play a little and you'll soon find this out for yourself, but here's some advice—when fighting as the Ice Climbers, making sure your partner, Nana, stays alive is key.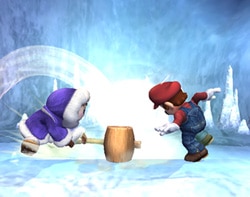 Your attacks suffer when you're alone...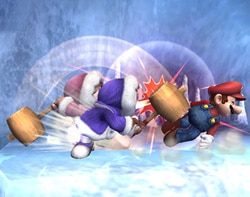 But together you'll hit harder and score multiple hits!
The difference is even more dramatic when performing special moves.
<Standard Special Move: Ice Shot>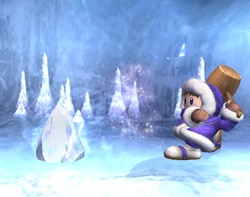 Popo fires off a lone chunk of ice that sliiides away.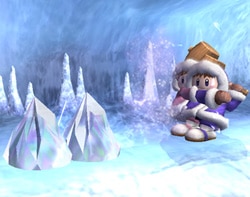 With Nana by your side, your attack is doubled!
With two shots you can relax, safe in the knowledge that you don't need to worry about your attack being reflected, since one projectile will cancel out the other upon being repelled.
This will be a constant source of headaches to your opponent.
<Side Special Move: Squall Hammer>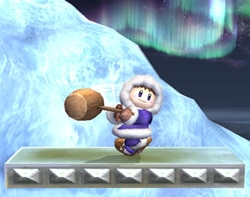 Popo spins around and around. It's not useless or anything...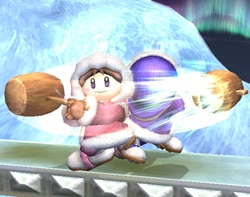 But this is much better!
You can also rapidly press the special-move button to rise higher into the air while doing this move, a secondary function whose rate of ascent is also improved when you perform this move with both climbers.
<Up Special Move: Belay>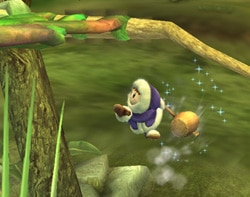 Popo's just going through the motions here. He probably had to work out a kink in his shoulder.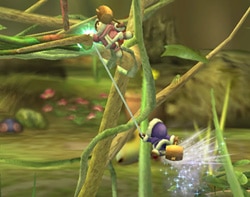 When you use Belay with two climbers, they perform a feat that leaves you dazzled at the depths of their friendship!
Belay has virtually no effect when performed alone. This is a real example of how you'll need both climbers for success.
<Down Special Move: Blizzard>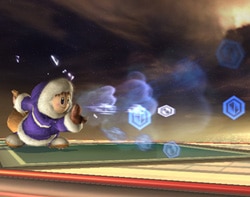 This short-range projectile move freezes the enemy.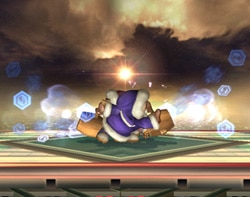 But with the two climbers together, you're guarded from both sides!
Use it in the air and both climbers will face the same direction for double the power!
Following up a small jump with a midair blizzard can come in pretty handy.
So playing Ice Climbers boils down to Nana. It's all about Nana.
Like a team of skilled mountain climbers striving to reach the peak, you must honor and cherish the bond that binds you with your teammate as you fight together.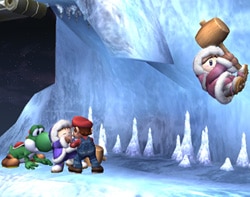 Ahem... And let's overlook our friend's occasional impulse to wander off, shall we?