Peach can hover through the sky if you keep holding the jump command. This is an important technique even though it's not a special move.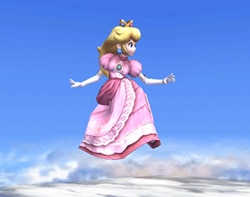 She delicately floats around.
This is a unique, versatile technique you can use to recover. You can also hover low to put the brakes on an opponent's attack pattern.
<Standard Special Move: Toad>
No, not a real toad. Toad, from the Mario series. You know, like a toadstool.
This technique lets the princess use Toad as a shield.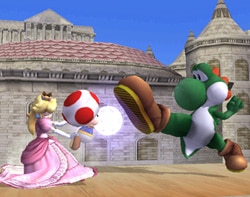 Block the opponent's attack like this...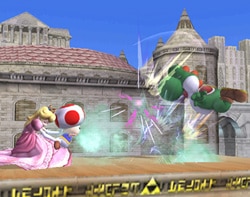 Toad counterattacks with spores!
The spores spread out in a fanlike flurry. The closer the opponent, the more damage you can deal. It's probably better to use this technique when you REALLY need it—if you try to reflect everything coming your way, your opponent will find you predictable.
If you can tactfully reel foes in, you can counterattack opponents behind you, as well.
<Down Special Move: Vegetable>
This one is important. It seems that the better the player is, the more vegetables the player uses.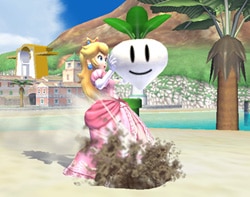 She pulls the vegetable from the ground...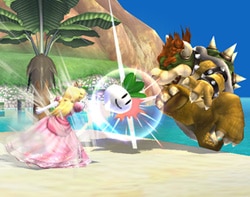 ...And throws it as an item!
You can use this as a throwing item, at your will, in all directions. It's perfect to break up your opponent's rhythm.
By the way, the face on the vegetable randomly changes. You want to watch out for one face, though...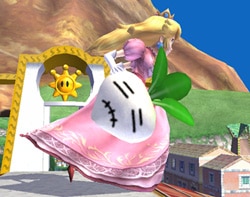 This one.
There's a 1/58 chance this one will appear, and it can deal damage of 30% or more. The face with dot-shaped eyes also has high striking power.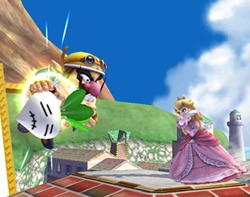 Be careful not to give it to the opponent!