When she's wearing her Power Suit, Samus is actually quite agile. She's also very easy to control in the air. So she must be able to perform a lot of good midair moves, right?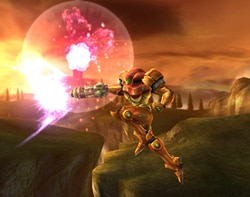 When doing a forward midair attack, Samus can get consecutive hits.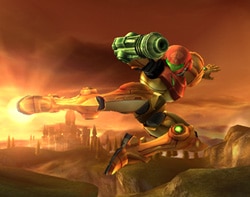 Her back midair attack, the flying back kick, is quite strong if you get a clean hit.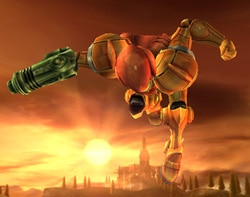 Samus's down midair attack is a meteor smash.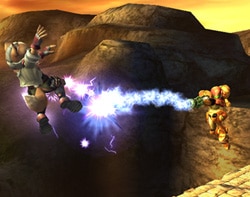 You can even use the grapple beam in midair!!
But, she doesn't have any moves that launch foes upward...and that makes stages like Shadow Moses Island a little difficult.
<Side Special Move: Missile>
You can use two types of Missiles.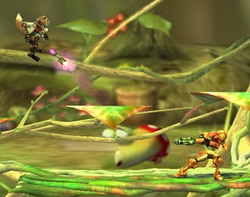 The normal Missile is a guided projectile.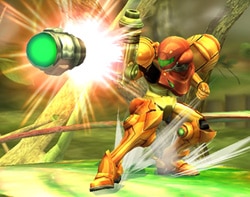 The Super Missile flies straight ahead.
The normal Missile will home in on enemies, but the Super Missile has more speed and destructive power.
To launch the Super Missile, do a side smash move and hold the special-move button. If you're using the Wii Remote held sideways, press and hold the 1 Button and the direction.
<Standard Special Move: Charge Shot>
If you're going to use Samus, you can't forget the Charge Shot. Just keep your cool and charge up the shot.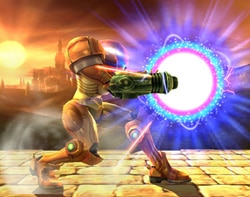 Charge up! If things get dangerous, you can always save your charge with the shield button.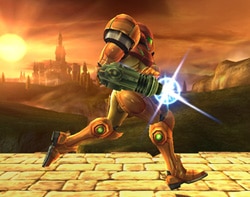 Even if you're fully charged, you don't have to use it immediately!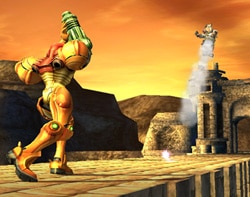 Shoot someone who has a lot of damage!
Mario, Fox, Zelda, Pit, Lucas, and the like should watch Samus carefully. If there's a chance, those characters should try to reflect or absorb these attacks.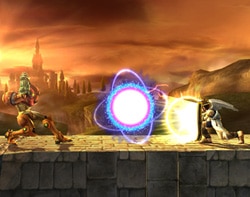 The End!!