None of Sheik's special moves have the power to send the opponent flying, nor do they heap large mounds of damage on the enemy. The absence of these characteristics is indicative of her character.
Sheik's style relies on her great speed and midair attacks, both of which help her torment the opponent. As such, it seems sensible enough to say that you'll use her special moves mostly as a means of keeping the enemy in check.
<Standard Special Move: Needle Storm>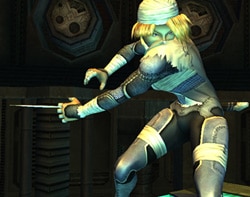 Press the button once and Sheik will start readying needles.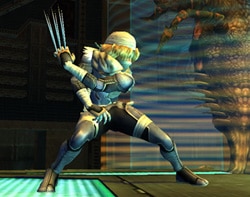 To stop charging, press the shield button or wait until the attack is fully charged.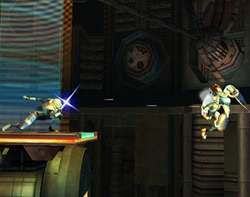 Then press the button again to make Sheik fling a stream of all the needles you readied!
If all six of Sheik's needles hit cleanly, you'll do 18% damage. It's a pretty strong move, especially considering how hard the needles are to see. Keep in mind that if you attack with Needle Storm from too far away, the attack's strength weakens.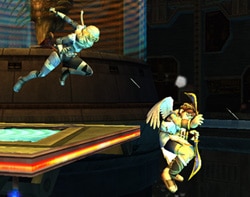 Use Needle Storm in midair and Sheik throws her needles diagonally downward. It's a great move for shutting down the opponent.
<Side Special Move: Chain>
This weapon is hidden up Sheik's sleeve.
If you simply press the special-move button once, Sheik will just produce a floppy stringlike object and then quickly put it away. Not much to write home about. However, if you keep the special-move button held down and wiggle the Control Stick, you can make Sheik whip the chain around in any direction you like.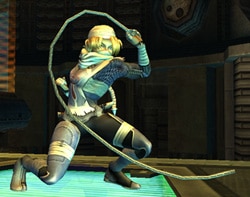 Round and round it goes.
If you move the chain around with a bit of speed, you can score lots of hits with it.
You're left open for a moment before and after the attack and actually controlling the chain is a bit tricky. However, the tip of the chain is electrified and packs quite a punch when it hits. So when using the whip, remember—it's all about the tip.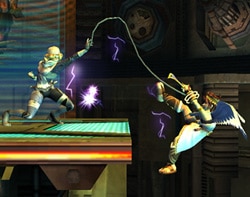 Once again, another great move for shutting down the opponent.
<Up Special Move: Vanish>
This is no mere magic trick.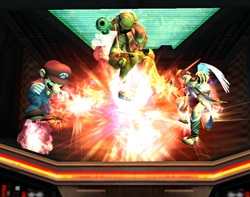 Sheik vanishes amidst an explosion...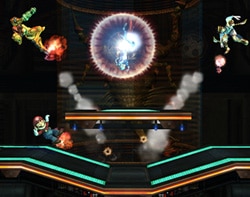 And teleports, reappearing in the direction you tilt the Control Stick!
The explosion that accompanies the beginning of this move has a good kick to it. There's something really intolerable about getting KO'd by this move.
<Down Special Move: Transform>
This move transforms Sheik into Zelda. After the transformation is complete, you're helpless for a moment, but during the flashing portion of the actual transformation, you're completely invulnerable to attack.
"So I can dodge Final Smashes with this," you say? Indeed, such daring maneuvers are possible.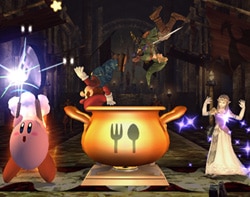 Transform into Zelda and effortlessly dodge Kirby's Cook Final Smash!
Just remember that if you're going to attempt this, you need to trigger the transformation well in advance. For example, were you attempting to dodge Kirby's Cook Final Smash, you'd need to input the Transform command right about the time Kirby triggers his Final Smash.