Since Ridley is in the air most of the time, you're going to have to go up there and attack if you want to win the fight. Winning this battle therefore means using effective midair strikes. If your character has them, I'd advise focusing on using attacks that score multiple hits.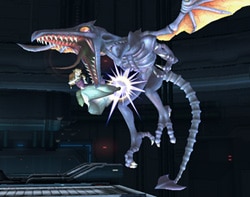 I don't recommend attacks that cause an impact stall, even if they pack a punch.
If you think "here comes an attack," put some distance between yourself and Ridley and watch its movements. Studying Ridley's moves will really pay off.
If Ridley flies upward, dodge sideways to avoid the descending attack that follows soon after.
If Ridley flies off the side of the screen, leap high into the air or crouch down to dodge Ridley's sideswipe.
When Ridley uses its tail attack or changes sides on the screen, jump to avoid getting hit.
Aim to incorporate dodges into your evasive maneuvers as this will lessen the likelihood of you getting hit during all that running and jumping.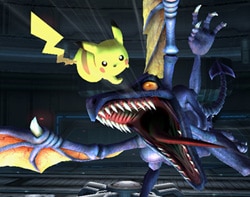 When Ridley rushes in from the background, jump and perform a midair dodge.
For times when you are far removed from Ridley, especially if you're playing on a high difficulty setting or using a character with poor mobility, it's OK to stay stationary. If you keep your head and wait, I bet Ridley will eventually bring the fight to you.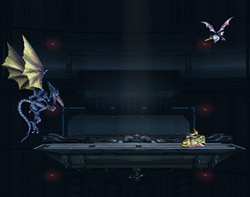 Stay cool. Just stay cool.