As you play deeper into The Subspace Emissary, you'll at last confront the Great Maze. This is the vast space that the final boss created. Clear this stage and you complete the entire adventure! This is truly the very last fortress.
You'll brawl against bosses and shadow characters of the fighters while proceeding through the areas.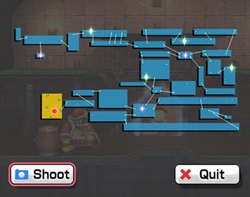 Pause in the Great Maze to see the map.
On the map, the spots blinking in pink or yellow are the save points.
There are four pink spots and five yellow ones. They're all crucial, since they'll serve as your bases of operation.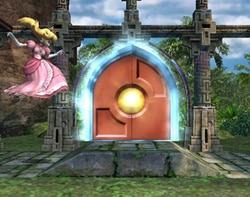 If you enter this gate, you can go to a save point.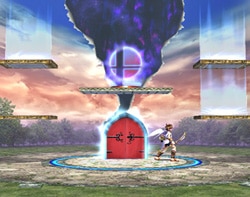 This is a save point.
You'll restore your health, and if you overlap with the Smash Bros. logo in the middle, you can either save, manage your stickers, or select different characters.
The warp zones on both sides will allow you to warp to other save points. They connect you to pink save points in the upper right, lower right, upper left, and lower left of the map. The area where you are now, or any area you haven't found, will not be displayed.
You can also go right into the Smash Bros. logo in the middle to warp.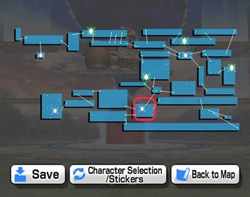 As you see here.
Caution. The yellow save points can't be used for warping.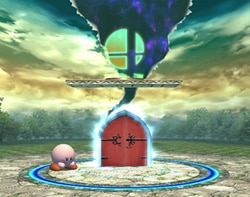 You can't even choose the Back to Map option.
Right after you enter the Great Maze, the entire map will not be visible to you—it gradually fills in as you trek along. As such, sometimes you may find yourself at a loss as to where your next foe is.
Don't think too hard about things, though—just keep moving forward. Once you've taken a full lap around the place, the positions of your foes should appear.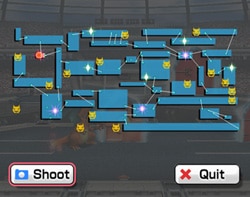 That's where they are!
Each one of your foes serves as a key to the final gate located in the middle of the map.
If you go in there, you'll meet the final boss at last. More power to you!