Spear Pillar is the area where Dialga or Palkia could once be found,.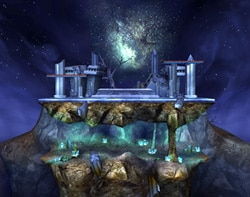 The stage is composed of two areas; a sort of holy ground above and a cavelike structure below.
Naturally you can expect appearances from none other than Dialga and Palkia!!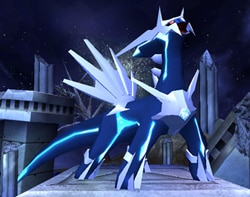 Dialga, a Temporal Pokémon, appears!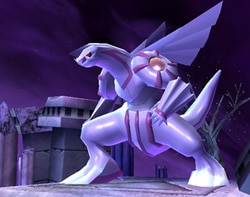 Here's Palkia, a Spatial Pokémon!
When you enter the stage, you may notice a slight bluish or purplish tint to the scenery. This coloring, which indicates the Diamond or Pearl versions of the stage, is decided at random each time you play.
The former color indicates Dialga will appear, while the latter color scheme heralds the coming of Palkia.
Each of these Pokémon cause different effects to occur on the stage.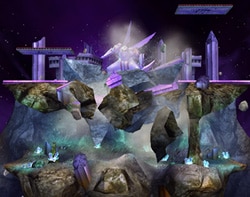 The floor is crumbling away!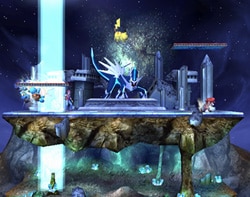 A laser beam crashes down from the sky!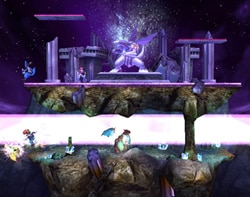 The beam rips right through the cave!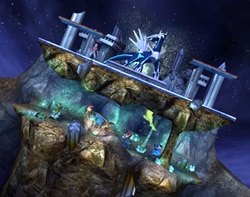 The whole stage just tilted sideways!! It's just an illusion—don't be fooled!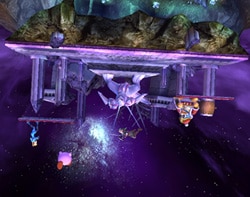 Everything's been flipped upside down!! But it's all an illusion! An illusion, I tell you!!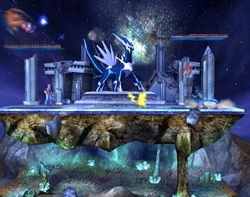 Now the whole fight's in slow motion. Perhaps someone's manipulating time?
Hmm, those are some supernatural effects. One should expect nothing less from these Legendary Pokémon.
You can also expect guest appearances by Uxie, Mesprit, and Azelf.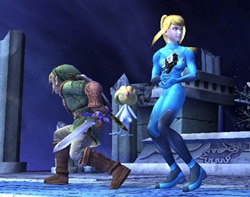 A casual guest appearance.
Additionally, aside from Dialga and Palkia you might occasionally see another Pokémon pop up.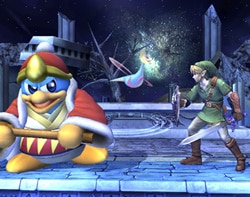 Could that be...Cresselia?!