Even among the Melee stages, there are a few hidden ones. Here I'd like to do a quick rundown of four such venues.
| | |
| --- | --- |
| | <Jungle Japes> |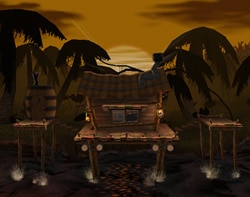 Here's Cranky Kong's shack and outhouse.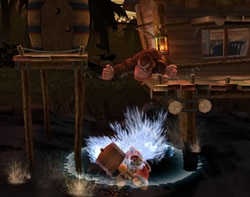 Fierce rushing waters flow beneath the platforms!

| | |
| --- | --- |
| | <Green Greens> |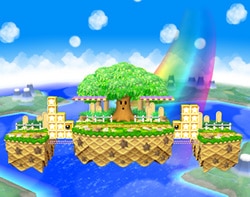 This stage is just hanging in space like some floating island.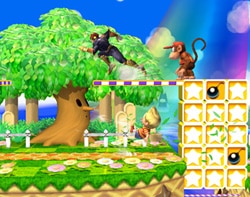 Whispy Woods and the trademark stacking blocks made it here intact.

| | |
| --- | --- |
| | <Pokémon Stadium> |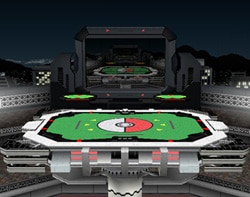 Pokémon Stadium 2 is available in Brawl but we've brought back the original as well.
Just like the newer iteration of this stage, Melee Pokémon Stadium's terrain transforms into four different types.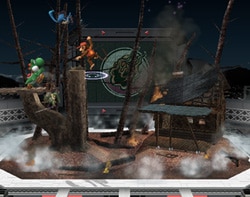 Fire Type: It calls to mind the charred aftermath of a volcanic eruption.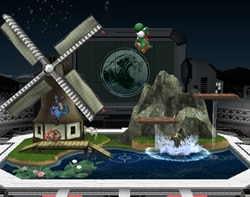 Water Type: The real star of this terrain is probably the waterwheel.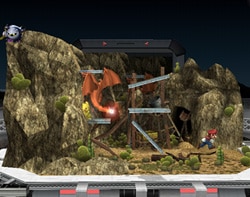 Rock Type: The towering mass of rock on the left side of the screen is this terrain's distinguishing feature.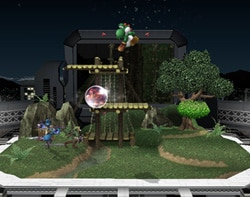 Lastly, here's the Grass Type. This one's comparatively simple in its structure.

Add the above four types to the additional four available in the Pokémon Stadium 2 stage and you've got a total of 8 different elemental terrain types to fight in.
| | |
| --- | --- |
| | <Big Blue> |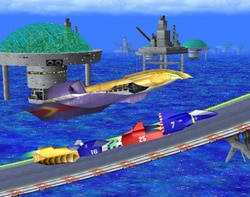 This unique stage has a real sense of breakneck speed to it.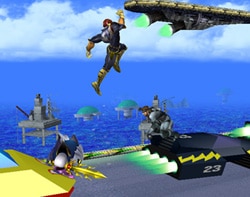 Get the jump on the opponent from one of the F-Zero machines cruising by.

The Melee stages available in Brawl are arranged so that you get one from each game world.
You can use the My Music feature on Melee stages, too.
In the previous Smash Bros., the background music for each stage had the same name as the stage regardless of the song's source, so you may find yourself feeling a bit like "Huh?" when viewing just the song titles for some of the music on these stages. (EarthBound-related music is the exception to this rule.)
Additionally, the My Music feature for these Melee stages allows you to include some secret songs and music from other stages from that game world in your mixes! Collect all the songs and try it out for yourself.