Believe it or not, but you can use four controller types with this game! But everyone seems to wonder the most about how the Wii Remote works when held sideways.
Please allow me to explain.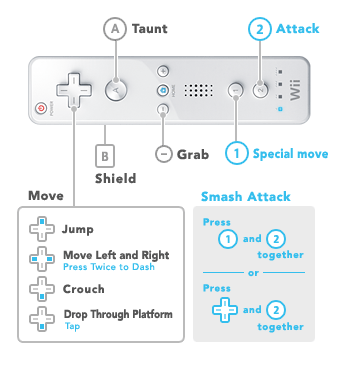 +Control Pad : Move
Press left or right to walk and press up to jump.
If you're in a real hurry, press twice. Press left or right twice to run and press down for a short time to fall through some floors.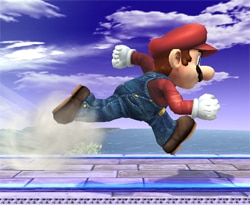 Press sideways twice to dash!
2 Button : Basic Moves
Just press the button for a standard attack. Press it while pressing a direction on the +Control Pad for a strong attack.
You can perform smash attacks in one of the following ways:
1: Press the 1 Button and the 2 Button at the same time.
2: Press any direction on the +Control Pad and the 2 Button at the same time.
Just pick whichever one is easiest for you!!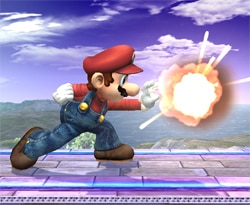 Press the 2 Button at the same time you press up,
sideways, or down!
1 Button : Special Moves
The direction you press will determine what kind of special move you do.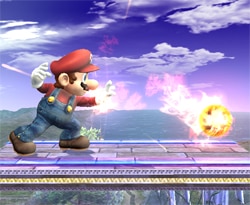 You have four special moves depending on the direction you pick: neutral, up, sideways, and down.
B Button : Shield
This is in a kind of hard-to-press area, but the button for your shield is near your left index finger.
To dodge, hold down the B Button and press in a direction.
To grab, hold down the B Button and press the 2 Button.
To throw an item, hold down the B Button and press the 2 Button.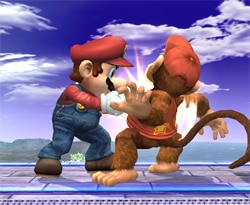 Using the – Button is the same as pressing B Button and 2 Button. Grab away!
A Button : Taunt
That's all!
Right now, to grab a Smash Ball, you have to beat on it—not just touch it. Don't forget!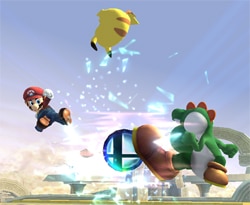 Be the first to pummel it!
When you get a Smash Ball, try a standard special move. In other words, just press the button for your special move without a direction. You will then perform your Final Smash.
This is the same for all control schemes, so keep that in mind.
On October 18 at the E for All (Entertainment For All Expo) in Los Angeles, people will be able to play Brawl. And (perhaps boldly), it will be available for play with the Wii Remote. Is that really going to be OK?
No need for concern—I bet you can play it quite smoothly and simply...maybe. How about a little mental training before the time comes when you actually control it?